Will The Real Barbra Seville Please STAND UP?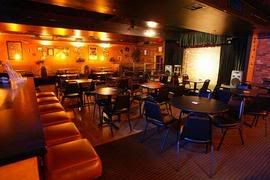 Last night was my comedy club debut. (And hopefully not my farewell.)


I have always incorporated stand up comedy in to my weekly shows, I have competed in pageants with my monologues ad routines, and I have even hosted the Out Far! Gay Comedy Festival.

I have been on stage in front of thousands, in front of hundreds, and even in front of tens.
Basically, few things get me nervous anymore (on stage.)

For some reason, I worried myself sick over this for the last week or so.


It was at The Comedy Spot in Scottsdale. A real comedy club, with a real brick wall, and a mic-stand.

And me.

In the spotlight.

Alone.

No drag songs.

No dance moves.

Just me.

I have to confess, the minute I heard the applause, and felt the spotlight, it was over. I felt so in my element. So at home. So comfortable.
It was amazing. Truly an experience I won't ever forget. Absolutely one of my all-time career highs.

Certainly a few jokes crashed and burned, other things that I did not think were as funny on paper, suddenly worked. I "improv"-ed a little (NOT IMPROVED as SPELLCHECK keeps trying to tell me!!!), interacted a little, but for the most part stayed with the routine that I wrote for the show.

After my sets, I sat and watched Slique Callihan do her thing.

Absolutely hysterical. I was blown away by her ease on stage, her ability to tell a story and paint such a vivid picture.
I stole some ideas learned a lot by watching her.

Look for pics on here and on my site very soon!